Obituary for Joanne Staroschak
JoAnne Staroschak JoAnne was born in Zolocziw, Ukraine on July 5, 1922. She received a certification with the Montessori Education Program in Ukraine and served there as a grade school teacher. She arrived in America in 1947 where she settled in her new hometown; McKees Rocks, Pennsylvania. Along with her arrival to her "newly adopted country" JoAnne brought her rich Ukrainian traditions and knowledge. Most prized was her beloved past-time of Ukrainian Easter Egg ("Pysanky") decorating. She quickly pioneered endeavors to promote and preserve this ancient art form of over one thousand years old. She loved it not only for its unique beauty and colors, but for its traditional and Christian art form because it allowed her to utilize both her artistic talents as well as her teaching skills. Over a period of six decades, JoAnne not only created hundreds of beautiful Pysanky. She also taught this ancient art form to thousands of interested folks. She presented innumerable workshops, local and interstate. She taught and demonstrated at the University of Pittsburgh. For many different church organizations, numerous Girl Scout Troops, various schools throughout Allegheny County, store malls, department stores, and multiple locations in the countries of Brazil and Ukraine. Dressed in her traditional Ukrainian clothes she also appeared on TV channels in Pittsburgh demonstrating the art of "Pysanky" egg-decorating. JoAnne also traveled to our nation's capitol during America's Bicentennial Celebration to demonstrate this art form, it was her passion. In her advancement of preserving this art form, she returned to Ukraine in 1990 along with her husband and daughter in order to re-introduce "Pysanky" decorating. Over 500 school children/students participated. Due to its religious and traditional significance, this ancestral art form was forbidden by the soviets for many years and therefore was almost forgotten. JoAnne brought all supplies with her during that trip and later donated them to the students for their future use and practice. Among her activities and accomplishments, JoAnne was a member of St. Mary's Ukrainian Orthodox Church in McKees Rocks for 55 years, sang in two Ukrainian choirs, organized and taught kindergarten classes at St. Mary's from 1956-1961. She with the assistance of her church priest and church committee initiated a clothes drive for underprivileged Ukrainian families in Brazil. Twenty packages were sent to the colonies there for both children and adults. She also made a personal trip to Brazil with all her Pysanky-making supplies in order to hold a workshop there, three hundred fifty women, men, and children participated, they were thrilled when afterwards JoAnne donated all her supplies to them. JoAnne raised donations in the sum of $5,000.00 again with the help of her priest and church committee for a church in desperate need of renovation in Harkiw, Ukraine. At her own expense, JoAnne traveled to Ukraine and personally delivered this "Collection" to the church committee in Harkiw. Furthermore, with the assistance of the Pittsburgh Ukrainian Radio Program and that of the Ukrainian "Ridna" Shkola (a children's Ukrainian cultural school), plus various Ukrainian individuals from the Pittsburgh area, donations totaling in the amount of $10,000.00 were raised for the renovation of a condemned kindergarten school in Zolochiw, Ukraine where some 235 children attended. Once again, at her expense, this "love-offering" of $10,000.00 was delivered personally by JoAnne, upon her arrival to Zolochiw, Ukraine. Arrangements were made for its direct deposit into the school's bank account along with an additional designation that being, for needed food to be purchased by the school for its pupils. Constantly involved, JoAnne also served as vice president of the United Ukrainian Orthodox Sisterhood of America. In 1987 she organized a similar sisterhood in Curtiba, Brazil. For 50 years, she belonged to "Souyuzukrainok" Ukrainian Women's League of America, Branch 27 in Pittsburgh, for 35 of those years she served as their press secretary. In recognition of her active Ukrainian cultural life, JoAnne was chosen and honored in the year 2000 by the Pittsburgh Ukrainian Technological Society as "Ukrainian Woman of the Year". Upon her death of her husband, JoAnne moved to Arkansas to be with family there. She was preceded in death by her husband Metro in 2004 with whom she shared her love of Ukrainian culture, tradition and society for 54 years. At the viewing, Valerian F. Szal Funeral Home in McKees Rocks, Pennsylvania will present ongoing slide photos of JoAnne's life. It is with heavy sadness that she leaves those closest to her, namely her son Myron, daughter-in-law Karen, grandchildren Christina and Natalie, daughter Zenovia with husband Michael, as well as other remaining relatives, including those in her homeland Ukraine. Viewing will be Wednesday April 27, 2016 from 2 pm to 8 pm at Valerian F. Szal Funeral Home, Inc. at 238 Helen Street in McKees Rocks, PA. Funeral/Burial services will be Thursday April 28, 2016 at 12:00 noon at Szal's Funeral Home. JoAnne passed on April 22, 2016 at the age of 93.
To send flowers or a remembrance gift to the family of Joanne Staroschak, please visit our Tribute Store.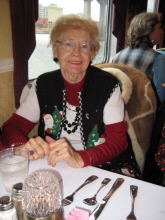 Thank you for sharing your
memory of Joanne
Provide comfort by sending fresh
flowers from our local florist.
No thanks, please don't show me this again.